The idea of saying goodbye (and good riddance!) to 2020 is a happy one, but since we're still in the world created by 2020 celebrations will definitely be a little different this year.
Even with coronavirus vaccinations on the horizon, you won't want to share any midnight hugs and kisses with strangers, or impair your judgment with too many cocktails or glasses of Champagne. But that doesn't mean you can't have a good time, or even go to a great party.
Just understand that safety protocols will be a part of the festivities.
With that in mind, here are a few of our favorite New Year's Eve parties in Los Cabos this year, each promising scenic surroundings and satisfying conditions in which to welcome in 2021.
Remember: it's an absolute necessity to make reservations in advance. Seating is limited for all these year-ending/year-welcoming celebrations.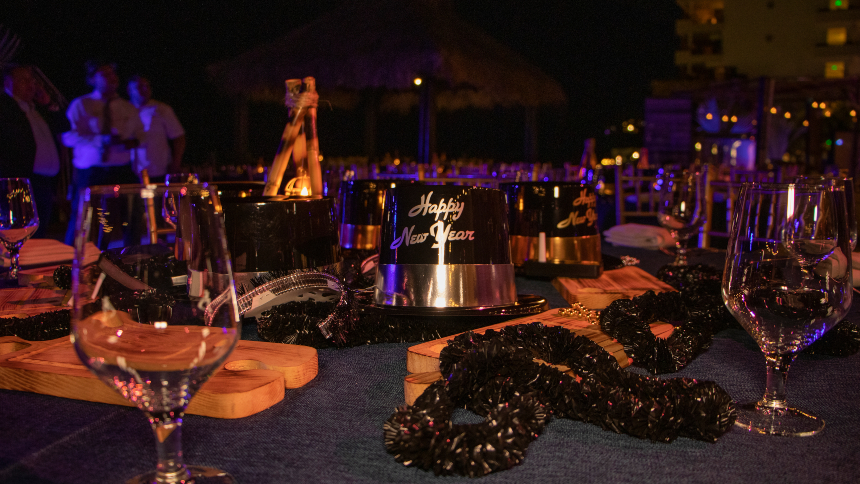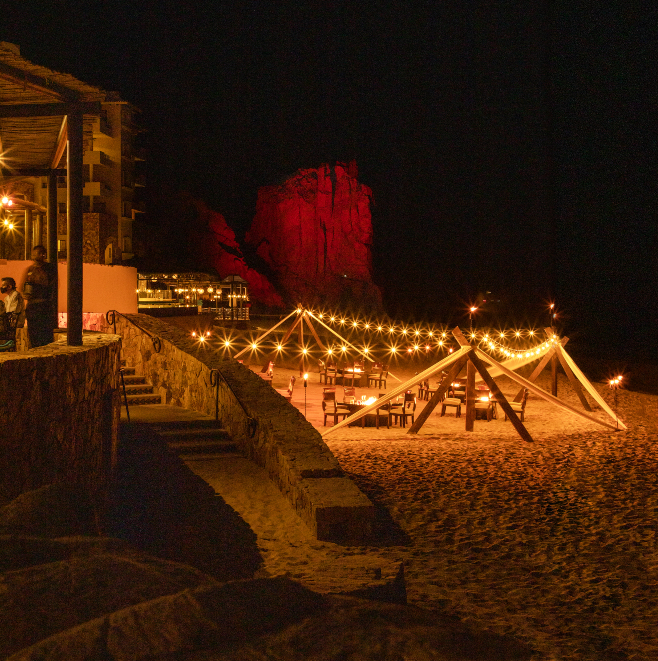 Grand Solmar Land's End New Year's Eve Celebration
No property in Cabo San Lucas is closer to Land's End than Grand Solmar Land's End Resort & Spa, which is artfully built into the southwest corner of the half-mile headland and offers magnificent views of pristine beach and crashing Pacific Ocean waves. The incredible setting will be on full display this New Year's Eve, when the luxurious resort will offer a 5-course tasting menu at La Roca, its signature beachfront restaurant.
The menu will include an organic salad, seasonal pumpkin soup, fresh catch of the day, braised short rib, and of course plenty of chocolate delights for dessert; as well as pairings of beer and cocktails. Just as importantly, perhaps, Grand Solmar will also be offering entertainment, notably fireworks. The latter is a major attraction considering the traditional fireworks show over Playa El Médano has been cancelled out of respect for the many lives lost during the pandemic.
Tickets are $139 USD for the New Year's celebration, scheduled from 7 p.m. to 1 a.m. Call (624) 144-2500 for reservations.

Disco Classy New Year's Eve Celebration at Sunset Monalisa
While it's true no property is closer to Land's End than Grand Solmar, it's likewise true that no property offers a better vantage for views of the evocative granite monuments at Land's End than Sunset Monalisa. The restaurant's breathtaking setting overlooking Cabo San Lucas Bay and Land's End has made it a romantic dining favorite for decades; particularly, as its name suggests, during sunsets, when the sky is painted more spectacularly than any Leonardo da Vinci canvas, even the immortal Mona Lisa herself.
The views aren't as impressive, obviously, after dark, and without the traditional fireworks display over Playa El Médano, Sunset Monalisa has had to get a little more creative this year to offer the usual wow-factor celebration. Thus the tagline: "Follow the call of the disco ball" for this year's Disco Classy theme.
The 7-course dinner menu from Chef Jacob Ramos is very impressive, as is the $262 USD ticket price for caviar oysters, diver scallop, white truffle, duck and foie gras, lobster, wagyu beef, and a chocolate and strawberry finish. Plenty of disco music, mixology and sparklers can also be expected during the 70s style year-ending dinner fête.
Call (624) 145-8160 or email reservaciones@sunsetmonalisa.com to reserve your spot.

Wild West New Year's Eve Celebration at Anica
The Grand Solmar brand expanded beyond Land's End this year with the opening of Grand Solmar Rancho San Lucas, a stunning Pacific Coast resort and residential development located just north of Cabo San Lucas, and featuring its own Greg Norman designed golf course.
Local residents who haven't visited this showpiece property yet should make a point of doing so, and New Year's Eve is the perfect opportunity since signature restaurant Anica is playing host to a Wild West themed celebration.
Anica, of coure, is already a feat of styling thanks to its high ceilings, rustic chic accents, and amazing terrace sunset views. Expect an even more visually stunning backdrop once the designers cowboy it up! And expect the food to be even more delicious than usual, thanks to a special Chef Ricardo Cordova crafted menu featuring the following options:
SALADS
Grilled organic Todos Santos vegetable salad
Mixed greens, carrot, zucchini, tomato, bell pepper, and broccoli with chile vinaigrette
Potato salad with carrot and bacon
Mushroom salad with sundried tomato, organic lettuce, bleu cheese, and rosemary vinaigrette
SOUPS
Cream of sweet corn soup with sautéed poblano peppers
Cream of pumpkin soup with Spanish chorizo & mussels
Cowboy-style rib soup with shredded beef and vegetables
FROM THE GRILL
Beef ribs with red wine reduction and rosemary Marinated goatling with ancho chile brine
Marinated barbecue-grilled beef
Picaña with mushroom sauce
Barbecue pork ribs
Thyme-marinated leg of lamb
Roasted chicken with adobo sauce
Suckling pig with pickled vegetables
SIDES
Grilled corn on the cob with butter
Grilled vegetables with olive oil
Mashed potato with bleu cheese, truffle oil, and parsley
Sweet potato purée with agave honey
Risotto with Miraflores artisanal cheese dirty rice
DESSERTS
Pumpkin tart
Apple tart
Chocolate cake
Sweet potato mousse
The party will take place from 8 p.m. to 1 a.m., and will include entertainment and a fireworks display. Ticket price is $149. Call (624) 143-0900 to reserve or learn more.

Glitz & Glam New Year's Eve Celebration at Brigantine
Set just off the lobby at Playa Grande Resort & Grand Spa, with its gorgeous rotunda and skylit oculus, Brigantine is the family-friendly resort's signature restaurant and ace party setting, notable for elegant terrace seating perfect for fireworks viewing.
Live music, entertainment and fireworks are all included in this year's glitzy and glamorous New Year's themed bash, which is priced at $150 USD. An open bar is included, so guests have five hours to eat drink and drink their way happily into the New Year.
The food is buffet style, with stations featuring caprese and Waldorf salads, fresh catch of the day with capers and meunière sauce, clam chowder, pineapple pork, pork loin with plum sauce, spring rice, toasted vegetables, sweet potato purée, potato au gratin with garlic octopus, tres leches cake and eggnog, berry cheesecake, chocolate cake, fruit tart, sweet corn flan, pumpkin tart, and pomegranate mousse.
Call (624) 145-7500 to find out more.

Other New Year's Eve Events in Los Cabos
Bar Esquina at Bahia Hotel and its Médano Beach based SUR Beach House are both hosting New Year's Eve Celebrations. Contact carlos@baresquina.com for reservations at the former, cesar@surcabo.com for reservations at the latter. Luxury resort Grand Velas is also hosting a New Year's Eve celebration with dinner, live music and fireworks. Call (624) 104-9800 for more details.
Want your business, activity or event featured and promoted by CaboViVO, please be sure to contact us here, thanks…
Saludos from Co-Founders…
Chris Sands – Writer  and Michael Mattos