El Mirador Ocean View Restaurant will once again host festival with Star Chef Miguel Ángel Guerrero
Guaycura Boutique Hotel beach club & spa announced that its quintessential culinary event, the BajaMed Festival, will return for its 4th edition this November 26th, providing visitors to Todos Santos a weekend of mixology, Baja California wines, dinner pairings and live music in the lush grounds of its El Mirador Ocean View Restaurant.
The BajaMed festival will feature the dishes by celebrated Baja chef Miguel Ángel Guerrero, who will partner with Guaycura Executive Chef, Ernesto Torres, and guest chef Martin Gonzales. The lattter will give a touch of Italy to the menu, which aims to delight patrons' senses, and celebrate the culture and flavors of the Baja California peninsula.
Baja Med is a term coined by Chef Miguel Ángel Guerrero, and one based on similarities in weather and terrain between the Baja California peninsula and the Mediterranean region. The cuisine the chef invented fuses Mexican and Mediterranean ingredients and techniques to create a cuisine that is unique to Baja California.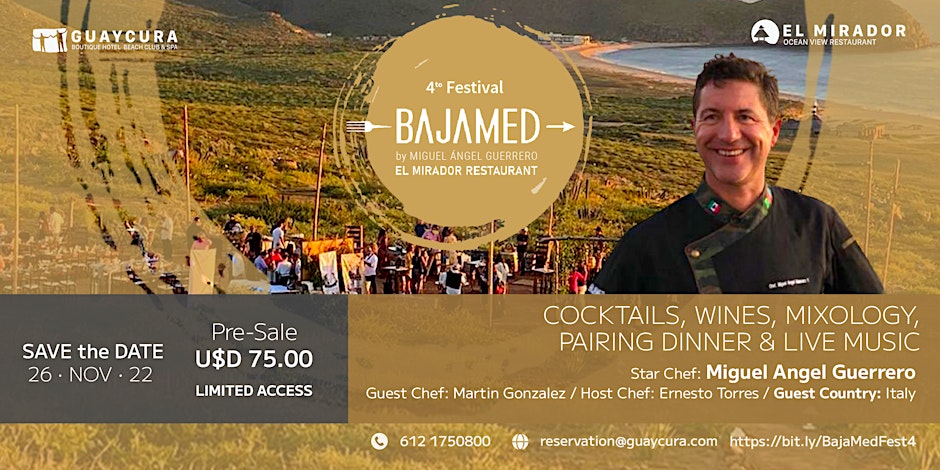 The cuisine features fresh produce from that state. This includes fresh seafood from the Sea of Cortés such as the famed chocolatas clams or blue tuna from the port of Ensenada, olives and wines from the Guadalupe Valley, dates from San Ignacio and tomatoes and strawberries from the San Quintin Valley. Additional ingredients include red lobster, manta rays, sea cucumbers and salicornia, a succulent that grows in sand dunes.
Patrons of the festival will enjoy one of the most spectacular restaurants in Todos Santos: El Mirador. Located 2 miles from the town's historical center – and feet away from the Tropic of Cancer – the spectacular location boasts amazing sunsets. Not only that, guests may even spot whales and manta rays swimming just off the coast.
Those staying at the Guaycura Boutique Hotel Beach Club & Spa can also enjoy the property's other culinary offerings: including Sky Lounge Bar and El Faro Beach Club & Spa. Perfect for a Sunday recovery, the beach club features an infinity pool with a zero-carbon footprint, a poolside seafood grill and bar, and health, wellness and relaxation spa treatments. Anchored by a fully functioning lighthouse and surrounded by the pristine beaches of the Punta Lobos coast, it is an ideal place to spend a relaxing day in the sun.
Guaycura Boutique Hotel Beach Club & Spa, a welcoming retreat in the heart of the Pueblo Magico ("Magical Town") of Todos Santos, is easily accessible by air and ground transportation, as it is located just 50 minutes' drive from the Los Cabos airport and 30 minutes away from the airport in La Paz.
Taking its name from the indigenous people who once roamed what is now the Mexican state of Baja California Sur, Guaycura welcomes guests in the historically rich town of Todos Santos. Housed in a 19th century red-brick building recognized by Mexico's National Institute of Anthropology and History as a historic and artistic structure, the property offers 14 comfortable and spacious rooms that feature authentic Mexican decor, as well as world-class amenities.
---
Want your business featured in our directory and promoted by CaboViVO, please be sure to contact us here, thanks…
Saludos from Co-Founders…
Chris Sands – Writer  and Michael Mattos