Cabo del Sol, One&Only Palmilla and Quivira tapped for accolades
Three outstanding golf resorts in Los Cabos, the undisputed 'Golf Capital of Latin America,' have received a prestigious Editors' Choice Award for 'Best Resorts in the Americas' in the May issue of Golf Digest.
Now in its third year, the publication's Editors' Choice Awards annually honor The Best in Golf, with an emphasis on lifestyle properties, products and services across the globe. In the 'Destinations & Accommodations' sector, editors examine criteria beyond golf, determining which properties offer a well-rounded, multi-faceted experience.
In the 'Best Golf Resorts in México and Central America' category, Los Cabos claimed three of the seven spots, more than any other destination in its region.
Heading the winner's list is Cabo del Sol, the 36-hole resort that imprinted Los Cabos on the international golf map when its majestic Ocean Course debuted in 1994. Intent on producing the 'Pebble Beach of the Baja' on what he described as "the best piece of golf property I've ever seen," designer Jack Nicklaus charted holes across gently sloping terrain creased by sandy arroyos and dotted with tall cacti and tawny rock formations. Very little earth was moved to create this seaside layout, which at full stretch (7,111 yards) asks experts to play a handful of do-or-die shots across swaths of desert or inlets of the sea. The Ocean Course is currently ranked No. 70 on Golf Digest's "World 100 Greatest Golf Courses" list.
Cabo del Sol's second venue is the Desert Course, Tom Weiskopf's first design effort in México. Routed in rolling foothills, all 18 holes on this shot maker's layout offer panoramic views of the Sea of Cortés. Shoehorned into rugged desert terrain crisscrossed by canyon-like arroyos, the Desert Course presents broad fairways framed by granite rock outcrops and a dense cactus forest. To defend the greens, which feature long slopes and subtle rolls, Weiskopf built large sculpted bunkers with distinctive capes and bays.
Cabo del Sol is anchored by a 40,000-square-foot, hacienda-style clubhouse, its spacious open-air verandas and terraces offering picturesque ocean and fairway views. On-site hotels include Sheraton Grand Los Cabos Hacienda del Mar; and the all-inclusive Grand Fiesta Americana Los Cabos. Each offers a lovely beachfront setting, excellent accommodations and a superb array of restaurants.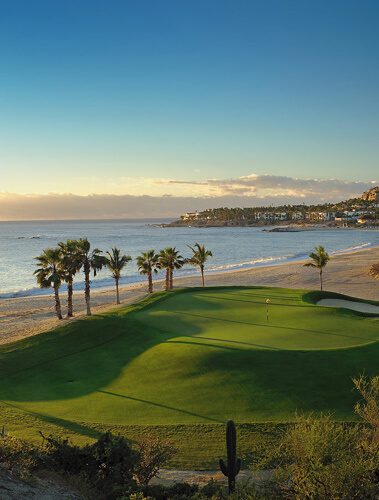 One&Only Palmilla can rightly claim to be the "Grande Dame" of Los Cabos. Palmilla Golf Club, the first Jack Nicklaus Signature course in Latin America, is five minutes from a legendary hideaway built in 1956 by the son of a former president of Mexico. The glamour and ambience of the original resort was carefully preserved at One&Only Palmilla, which opened in 2004 following a $90-million expansion and refurbishment. This ultra-luxe property, a favorite of Hollywood A-listers, is set on a rocky promontory that juts into the sea, its protected sandy beaches fronting azure-blue waters calm enough for swimming.
Palmilla's Mountain and Arroyo nines, dropped into in a box-shaped canyon walled in by steep stony peaks, set the stage for top-shelf golf in Cabo when the core 18 opened in 1992. Routed around boulder-strewn arroyos and cactus-covered foothills, Palmilla was the first course in the hemisphere to partake of the region's unique mountain, desert and ocean ecosystem. While tournament-tough from the tips, the layout's broad fairways and open-entry greens accommodate players of lesser attainment. The Ocean nine, added in 1999, features a 600-foot elevation change from the first tee to the sixth green, carrying players from the mountains to the sea.
Treated to a recent $3.5-million refurbishment, Palmilla's 27-hole complex is better now than when it was new.  Game improvement? The club recently installed RoboGolfPro®, a new robotic swing trainer endorsed by PGA Tour pros and "Top 100" teachers, at its practice facility.

Golf Digest's editors had this to say about Quivira Golf Club, the gravity-defying layout grafted onto a dazzling site at Land's End: "At the tip of Baja (California) Sur is the newest of more than a dozen Jack Nicklaus layouts in Mexico, and perhaps his most compelling, with holes along and atop granite cliffs and sand dunes overlooking the Pacific."
Nicklaus used every tool in his kit to build a course that ranks among the most spectacular he has ever designed. That claim is validated by the fact that the course, opened in 2014, vaulted onto Golf Digest's roster of the "World 100 Greatest Golf Courses" at No. 93.
A strategic tour de force marked by risk-reward options and breathtaking drops from tee to fairway, Quivira offers more oceanfront exposure than any other course in Los Cabos. This multi-themed layout starts at sea level, climbs the face of a mountain, tiptoes along sheer cliffs, meanders through massive dunes and rambles across desert foothills. The links-style finish is memorable: the infinity-edge green at the par-4 18th appears to float on the ocean.
An all-inclusive facility, Quivira serves complimentary food and refreshments at four comfort stations. The club is accessible to guests of Pueblo Bonito Golf & Spa Resorts' five properties. Golfers gravitate to the nearby Pacifica Golf & Spa Resort, an adults-only enclave where the accommodations, dining options and technicolor sunsets are exceptional.
Press Release from Brian McCallen, Golf Public Relations for the Los Cabos Tourism Board.
All images courtesy of Nicklaus Design.
Want your business, activity or event featured and promoted by CaboViVO, please be sure to contact us here, thanks…
Saludos from Co-Founders…
Chris Sands – Writer  and Michael Mattos