The sun shines year-round in Los Cabos, but never so fiercely and unrelentingly as during the late summer months. From mid-July to mid-October…well, we're not going to sugarcoat the facts: It's hot! It's still a paradise, mind you, but one best enjoyed from the submerged barstool of a swim-up palapa bar, margarita firmly in hand.
Luckily, both swimming pools and margaritas proliferate in the cape cities. If your interests veer more to the latter, check out our Top 5 Margaritas in Cabo list. The former? We've got you covered there, too, although narrowing down the top choices is every bit as difficult, if not more so.
Virtually every hotel and resort in Los Cabos, you see, boasts at least one swimming pool, and most feature multiple options, dedicated to kids or romance or relaxation or partying. It isn't just the variety that's impressive, however, or even the views–although they are routinely jaw-dropping–it's the related amenities associated with the pools that really stand out.
How impressive? You'll find out below, as we unveil our Top 5 Swimming Pools in Cabo for 2019.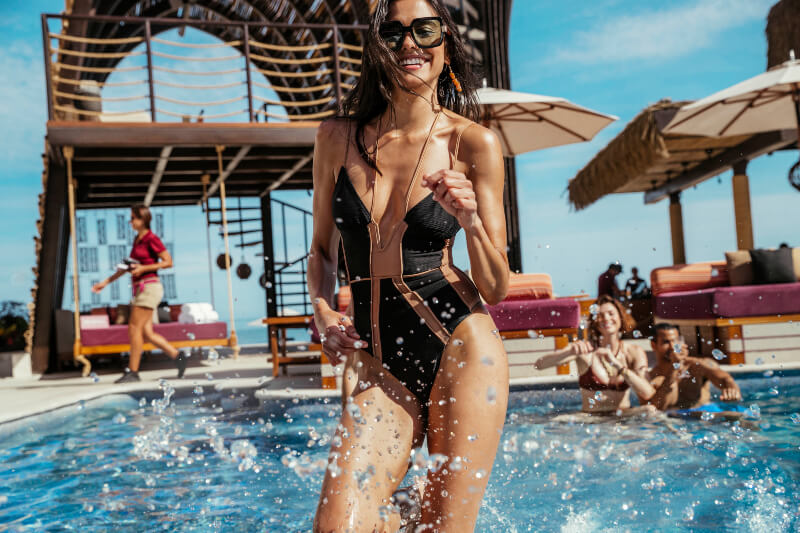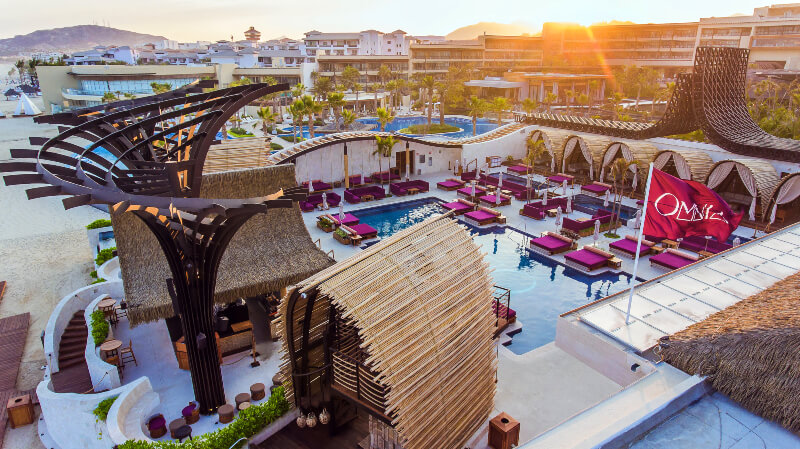 OMNIA Dayclub, The Grand Mayan at Vidanta Los Cabos
We mentioned pool parties in the introduction, and there's no denying they're a specialty in Los Cabos. For years, the premier wet and wild party spot was at ME Cabo in Cabo San Lucas, thanks to poolside clubs and bottle service purveyors like Nikki Beach (former) and Blue Marlin Ibiza (current). ME Cabo still rocks, and their annual White Party remains one of the social events of the year. But in terms of world-class DJs and Champagne ambiance, the pool party torch has now been passed to OMNIA Dayclub in San José del Cabo. Part of a $150 million partnership between Vidanta Resorts and the Hakkasan Group to create unique lifestyle experiences and beachfront club concepts in Méxio, OMNIA opened in 2018 with appearances from some of the world's most famous DJs (including Calvin Harris and Steve Aoki), and has been raging ever since. It isn't just the music that sets OMNIA apart, however. It's the private cabanas and plunge pools, the two-story VIP bungalows and a host of other hip bikini-friendly amenities. Why dayclub instead of nightclub? The party typically ends when the sun goes down, although OMNIA suspends that rule when the moon is full. Because of course they do…
Vidanta Los Cabos, Boulevard San José s/n Lote 12, Campo de Golf, San José del Cabo, 23406. For tickets or additional information, call +52 (624) 104-9743, email loscabos@omniadayclub.com, or visit omniaclubs.com/los-cabos/.

The Ridge at Playa Grande
For sheer drop-dead spectacular poolside views, nobody tops The Ridge at Playa Grande. One infinity edge pool is suspended over a sheer Pedregal cliff, with sweeping, horizon-stretching Pacific Ocean vistas. Another, for kids, looks out over the Cabo San Lucas Marina and the Sea of Cortés. The large middle pool, meanwhile, offers the best of both worlds: panoramic views plus a swim-up palapa bar with the partially submerged barstool seats favored by margarita connoisseurs. Did we mention the café seating on the other side of the palapa, where privileged guests can sample superb local seafood (bluefin tuna ceviche, anyone?) in the shade?
The Ridge is the pool on this list that's least publicized, largely because it isn't open to the public, either via tickets, cover charges or day passes. But spend even a single afternoon here and we promise you'll never forget it. A luxury villas concept at Playa Grande, one of the Solmar Group of resorts that also includes Grand Solmar and Rancho San Lucas, the Ridge pool is nestled between a collection of upscale accommodations–either master or presidential suites–that command breathtaking pool views well beyond the scope of any other resort in Los Cabos. If OMNIA is the pool party mecca non pareil in Los Cabos, consider this the luxury leader (and the place you'll most want to have a camera or video-enabled device in hand).
Ridge Luxury Villas, Boulevard Paseo de la Marina 1, Cabo San Lucas, 23450. For reservations or additional information, call +52 (624) 146-7500, email infotheridge@solmar.com, or visit theridgeluxuryvillas.solmar.com/.

Breathless Cabo San Lucas Resort & Spa
With a range of views that stretch from the exclusive hillside villas of Pedregal to the half-mile headland at Land's End, it's no wonder they call this place Breathless. One of the more recent hotel openings in Cabo San Lucas–it premiered in December 2015–this urban chic playground for adults-only occupies one of the most sought after pieces of real estate in the region, and takes full advantage of it. Situated at the juncture of Médano Beach and the Cabo San Lucas Marina, Breathless utilizes its amazing backdrops in the service of pampering and playful amenities, from a relaxing spa to two large infinity edge pools and a rooftop VIP lounge that hosts themed nights like pajama and toga parties. The pools are dedicated for different purposes: a serenity focused pool surveys the marina, while the party pool features gorgeous vistas of the bay and visiting cruise ships, as well as the iconic rock formations at Land's End. The party pool is particularly popular with locals thanks to Breathless' day pass program. Night passes are also available for those who'd like to sample the restaurants' fare of party down at the rooftop Purple.
Breathless Resort & Spa, Paseo de la Marina 4750, Col. El Médano, Cabo San Lucas, 23453. For information about day passes or reservations, call +52 (624) 104-9500, email info.brcsl@breathlessresorts.com, or visit www.breathlessresorts.com/en_us/resorts/mexico/cabo-san-lucas.html.

Chileno Bay Resort & Residences
There are two luxury Auberge brand resorts in Los Cabos–Esperanza and Chileno Bay Resort–and both are first-class, showcasing an appealing blend of comfort, chic accommodations, and of course the sort of stunning coastal views that are par for the course along the 20-mile Tourist Corridor which connects cape cities Cabo San Lucas and San José del Cabo. Chileno Bay is luxurious, albeit without ostentation. The only amenity that really screams "look at me" is the incredible series of interconnected swimming pools. You've heard the phrase "ocean views for days"? At Chileno Bay, you have to see past the endless pool horizons to even glimpse the ocean. The swimming pools stretch for over 400 meters, the equivalent of eight of the Olympic-size variety, and they are indeed spectacular. Framed by palm trees, elegant white daybeds and chaise lounges, the pools cascade like infinity edge waterfalls towards the sea, a panorama so breathtaking in its composition that it's almost impossible to fathom, let alone tire of. But if you do, by chance, there's always the nearby Chileno Bay Golf Course, which is one of the finest in an area with no less than four layouts ranked among the world's best.
Chileno Bay Resort, Carretera Transpeninsular Km 15, Tourist Corridor, Los Cabos, 23410. For reservations or additional information, call +52 (624) 145-6469, email cbr.info@aubergeresorts.com, or visit aubergeresorts.com/chilenobay/.

Cabo Azul Resort by Diamond Resorts
OMNIA has only one rival for swimming pool dominance in San José del Cabo, and that's neighboring Cabo Azul. Unlike the understated elegance of a Chileno Bay Resort, Cabo Azul specializes in wow-factor architectural elements and accents. Guests enter through an antique 20-foot door into a lobby centered around an amazing ceiling-hanging, chandelier-like rope sculpture whose combined length tops 1200 feet, but stops just short of a complentarily lit fountain. All the buildings are white here…because of course they are. But for a touch of the blues, visually but certainly not emotionally, venture to the pool area, which boasts a massive three-level swimming space with views across the Playa Hotelera to the cerulean Sea of Cortés beyond. We mentioned the three-level pool, but did we mention the raised inset fire pits and dancing platforms? Because you can't really have a proper Cabo pool party without them. Also essential is Flor de Noche, a swim-up bar and restaurant situated in the shade beneath a truly massive palapa roof. Look up while the bartender is preparing your perfect margarita and you'll notice hanging ropes echoing the lobby-based artwork…because of course. Cabo Azul doesn't let any "wow" moments go to waste.
Cabo Azul, Paseo Malecón San José, Zona Hotelera, San José del Cabo, 23400. For reservations or additional information, call +52 (624) 163-5100, email hotel.reservations@diamondresorts.com, or visit www.caboazulresort.com/.
Want your business, activity or event featured and promoted by CaboViVO, please be sure to contact us here, thanks…
Saludos from Co-Founders…
Chris Sands – Writer  and Michael Mattos