Welcome to our choice of "Top Five Margaritas in Cabo San Lucas" exclusively presented by CaboViVO
The origins of the margarita are shrouded in mystery, although it's interesting to note that many of the claims put forth for its invention have a Baja California connection.
The writer of an article published in an Iowa newspaper in 1936 claims the drink was first discovered in Tijuana. Another popular theory traces the cocktail to a restaurant called Rancho La Gloria between Tijuana and Rosarito, where owner Carlos "Danny" Herrera is said to have made if for a former Ziegfeld dancer who was allergic to all spirits save tequila. Yet another story places the origin in 1941 at Hussong's Cantina in Ensenada, where it is credited as the brainchild of bartender Don Carlos Orozco.
The true identity of the genius who invented this now famous cocktail will probably never be definitively known, but what has been established is that the first recipe was published in Esquire Magazine in 1953. What's also known to a certainty is that in the 65 years since that recipe was first published, margaritas have become one of the world's most commonly ordered cocktails, and a staple at parties and celebrations around the globe. In the U.S. there is even a day – February 22 – designated as Margarita Day.
There's no need for such semi-official pronouncements in Los Cabos, where to all intents and purposes, every day is Margarita Day.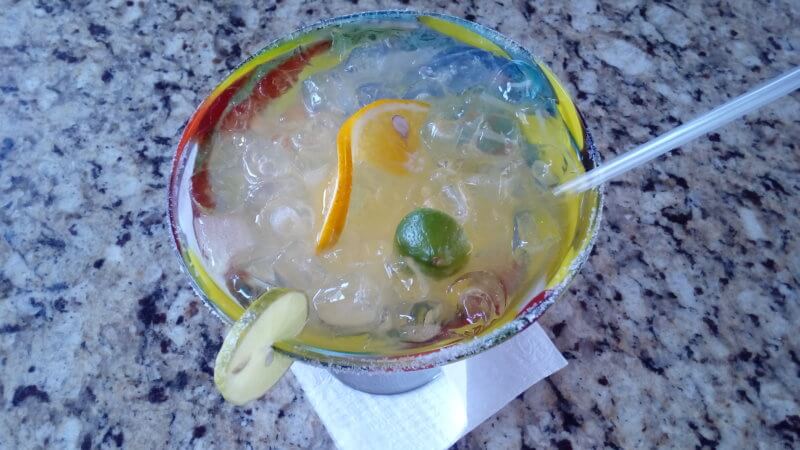 Every bar, restaurant and hotel in the cape cities has its own approach to the Rita, with subtle variations apparent in methodology (shaken or blended?), signature ingredients (well or top-shelf tequila? Triple sec, Controy, Damiana or Cadillac style Grand Marnier?) and garnishes (salt-rimmed glass or not? Orange and lime wedge or just one or the other?).
Some places, however – either through the quality of their ingredients or imagination – have taken the legendary cocktail to an entirely new level. Here are our picks for the top 5 places to enjoy margaritas in Cabo in 2018.
Los Tres Gallos
Visitors inevitably find it enchanting and entertaining, but don't let the good time atmosphere fool you: no local restaurant takes authenticity and traditional Mexican values more seriously than Los Tres Gallos. Virtually every single item at this popular downtown eatery is made by hand, and not just the ones listed on the menu.
Naturally, each dish is prepared with fresh regional ingredients and a genuine love of craft – co-owner Michel Zermeño's mother even makes occasional visits to the kitchen to ensure fidelity to traditional values – but the furnishings and fixtures here are also handmade, built from scratch using methods that have been passed down from generation to generation. Each table and chair, for example, is constructed by staff artisans.
About the only things that aren't handmade are the colorful fruit trees scattered about the charming courtyard, and of course the wandering mariachis.
The margaritas receive the same level of care and attention as the décor and delicious regional specialty items. The house margarita showcases top-shelf ingredients like Clase Azul Reposado tequila, Damiana, Controy, Jarabe Natural and freshly squeezed lime and orange juices; and is served in a handmade pottery mug with tamarindo salted rim and colorful popote.
You haven't had a margarita in Cabo until you try this one:
Monkey Business
The margarita shines in most any context, but it works a lot better as a star than a supporting player. Pair it with dinner or a snack, for example, and its flavors are muted. Surround it with flashing nightclub lights or pulsating music and its impact is subdued.
There's no question that restaurants and resort based nightclubs produce many of the finest margaritas in Cabo, but to appreciate the cocktail in its best light, at center stage of the proceedings — so to speak — you need to visit a local bar; and not one that advertises 600 brands of tequila. A simple place, preferably outdoors with a palapa roof or a few palm fronds for atmosphere.  
Two bars stand out in downtown Cabo San Lucas: Monkey Business and Uno Más. Both are small, semi-circular in shape, with bar stools arrayed in such a way that the bartender and his or her activities are the focus of attention.
Not for passersby, mind you, only patrons. Any business at Monkey Business, for example, is mostly hidden from the main thoroughfare, Marina Blvd. as the palapa-topped bar faces in the opposite direction: away from the street and towards the arts and crafts vendors of the small Plaza Marlin.
But this is the kind of place where the making of a margarita is as compelling a spectacle as one could wish for on a lazy afternoon or moonlit evening. The colorful margarita glasses here are nearly large enough to swim in, but it's the potent mixture within that excites the palate. Sauza's branded 100 Años tequila is the base of choice, with a splash of Controy and orange juice, fresh lime and jarabe.
Sit back and watch as this collection of random ingredients are fused into a magical elixir.
That's entertainment, Cabo style.
Cabo Wabo Cantina
Cabo Wabo Cantina is the most famous bar in Los Cabos, so it should come as no surprise that it also boasts one of the area's signature margaritas. Founded in 1990 by Sammy Hagar and his then Van Halen bandmates, Cabo Wabo Cantina has for decades now been a must-visit nightlife destination for visitors to Cabo San Lucas. The Red Rocker's birthday bashes continue to draw rock n' roll and country music royalty for star-studded jam sessions each October, but just to be clear: the rollicking live music isn't limited to a few occasions each year. Musical entertainment is served up on a daily and nightly basis.
So too are the potent "Waboritas." In addition to the Cabo Wabo Cantinas – subsequent locations have opened in Las Vegas, Hollywood and Lake Tahoe – Hagar also originated a Cabo Wabo brand tequila. Yes, he later sold the majority of his stock to Campari in a blockbuster deal, but this particular brand of tequila remains one of several reasons the house Waborita differs from more traditional margarita mixtures. Another, perhaps equally important, is Damiana. This herb native to the Baja California peninsula has long been recognized as a powerful natural aphrodisiac, a reputation played up in bottles of Damiana infused liqueur, which are shaped like an ancient fertility goddess.
For those who'd like to rekindle the spark of their Waborita fueled vacation experience at a later date, here's the standard recipe: pack a cocktail shaker with ice, then add Cabo Wabo tequila, orange liqueur, fresh lime juice, and Damiana. Shake the ingredients until ice cold, then strain into a salt-rimmed martini or margarita glass, with a final splash of Blue Curacao for color. Repeat as needed.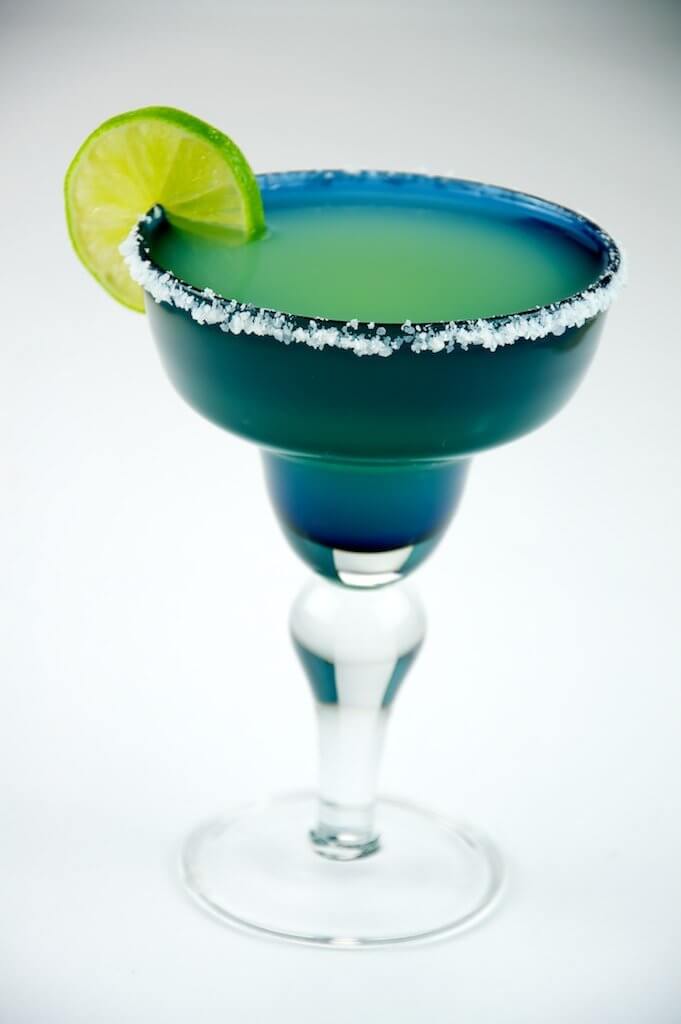 Esperanza
Signature ingredients and skillful bartenders are a big part of the equation for producing a memorable margarita, but service and setting also matter.
When it comes to the latter two elements, Esperanza is in a league of its own.
The Auberge branded resort has long been renowned for its luxurious appointments and spectacular seaside views (and, incidentally, for providing the backdrop for the infamous Kim Kardashian sex tape); but not even its pampering, award-winning spa – rated by Travel+Leisure as the best in Latin America – epitomizes Esperanza's talent for delightfully decadent amenities quite like the onsite margarita butlers.
Yes, you heard us correctly: margarita butlers. Imagine Jeeves with a cocktail shaker, pouring out a little lime-flavored refreshment as you ponder the infinity pool views from your private cabana. Of course, if we might make a small suggestion….moving to one of the partially submerged chaise lounges in the infinity pool for more picturesque vantages of waves crashing against the offshore rocks adds a few more sensory layers to the experience.
The boutique cocktails are shaken up (or blended) by the glass or pitcher, and they're as good as the service would lead you to expect. Why not, after all? Each butler is trained by the resort's master tequilier (tequiliers are the sommeliers of the tequila world; trained in Jalisco, the ancestral home of the country's signature spirit).
Lucky guests may of course customize their poolside concoctions, choosing tropical flavors additives like mango or hibiscus, or opting for tajin over the traditional salt to rim the glass.
About the only thing guests can't do is take their margarita butler home with them.
Uno Más
It's hard to say no to Uno Más: either to the bar or the phrase, which means "one more" in Spanish.
Oh, there's nothing fancy about this airy outdoor watering hole, set amid the interior marketplace of arts and crafts at Plaza del Sol in downtown Cabo San Lucas. There are no margarita butlers or partially submerged chaise lounges or Sea of Cortés vistas. Just grizzled locals and savvy visitors, arrayed on a dozen or so bar stools facing one great bartender – with a bottle of Jose Cuervo Tradicional in one hand, and an old-fashioned heavy duty aluminum lime squeezer in the other.
What can you say about a margarita that's made the same way as it was during the halcyon days of Danny Herrera and Don Carlos Orozco, with a damn fine tequila and some freshly cut limes?
What can you say? Uno más, por favor!
Want your business, activity or event featured and promoted by CaboViVO, please be sure to contact us here, thanks…
Saludos from Co-Founders…
Chris Sands – Writer  and Michael Mattos