Two Women, One Big Fish, One Magical Day Aboard Blue Sky Cabo

One of the mythologies about Los Cabos is that just after World War II American pilots flying over the southernmost tip of the Baja California peninsula saw enormous marlin leaping from the offshore waters and decided to invest in building a sportfishing paradise.
That's not exactly the way it happened, but it is true that many of the pioneer hotel developers in cape cities Cabo San Lucas and San José del Cabo were pilots, and it is likewise true that the tourism industry in Los Cabos was built on big-game sportfishing, particularly billfishing.
Beginning in the 1950s, weekend fishermen in the U.S. and beyond started hearing tales of enormous black, blue and striped marlin caught off the southern coast of Baja California Sur. Ray Cannon, a former film director who has transformed himself into a fishing columnist for Western Outdoor News, hastened the flood of visitors by reporting some of these epic tales, and soon early fly-in resorts like Rancho Las Cruces, Hotel Palmilla, Hotel Cabo San Lucas and Hotel Hacienda were thronged with eager anglers, including celebrities like Bing Crosby and John Wayne.
By the 1980s Bisbee's has begun hosting its annual Black & Blue marlin fishing tournament, which within a few decades would be more commonly known as "The Super Bowl of Sportfishing," or simply "The World's Richest Fishing Tournament." The die was cast. Los Cabos – from Cabo San Lucas to East Cape fishing communities like Buenavista and Los Barriles – was celebrated as a fish-rich mecca, with travel articles about the area inevitably accompanied by images of sunburned heroes muscling in king-sized marlin from the aft deck fighting chair of a cabin cruiser.
One thing, though:  The image of the angler strapped into the aft deck fighting chair? It was always a guy…a fisherman, or fishermen.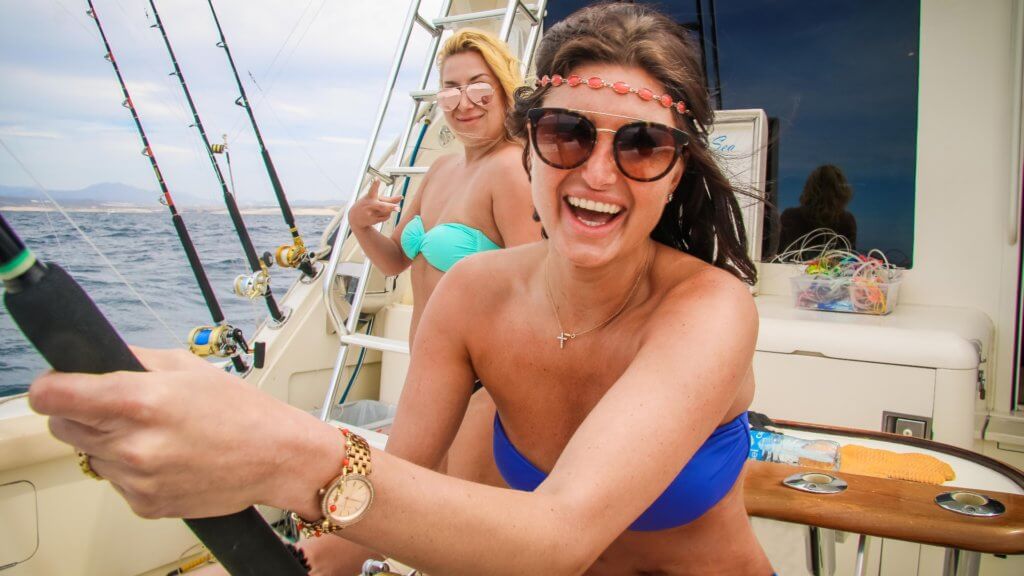 That's not the case any longer, however, as over the past decade local fishing fleets have increasingly begun to welcome women into what was formerly a boys' club. Blue Sky Cabo has been at the forefront of this movement, offering complete sportfishing experiences that not only include day trips aboard a comfortably appointed 60' Bertram, but luxe extras like private transportation and upscale home rental options. Blue Sky also boasts crew who are as adept at handling Champagne magnums and mixing margaritas as they are at hauling in marlin, sailfish, tuna, dorado and wahoo.
So rapid has the transformation been from boys' club to inclusive vacation activity that 2017 even saw the birth of the Señoritas Blue Water Classic, a ladies only fishing tournament hosted by the Hotel Buena Vista Beach Resort.
The new face (or faces) of Los Cabos sportfishing is apparent in the latest video collaboration between CaboViVO and Blue Sky Cabo, which shows two visiting women having the time of their lives as they sip some bubbly, enjoy up-close views of Land's End, and of course catch – and release – a trophy-sized marlin.
To find out more about fishing packages and other offerings from Blue Sky Cabo, visit their website, or call 624-177-7754 (1-866-261-3872 in the U.S.; 780-918-3344 in Canada). Discounts are available with the promo code CABOVIVO but vary according to tour.
Want your business, activity or event featured and promoted by CaboViVO, please be sure to contact us here, thanks…
Saludos,
Chris Sands and Michael L. Mattos