"Every act of creation," noted artist Pablo Picasso, "is first an act of destruction." That adage certainly seems true in regards to one of the most remarkable chapters in recent Los Cabos history, as the widespread destruction of Hurricane Odile in 2014 kicked off an unprecedented building boom that three years later continues to transform the coastlines of cape cities Cabo San Lucas and San José del Cabo.
Not only did existing hotels and resorts in the area take advantage of the forced downtime  following the Category-4 storm to organize upgrades and renovations, but larger hospitality brands took advantage of the new growth friendly economic climate to launch their own luxury projects. Between 2014 and 2018 it is estimated that 4000 new hotel rooms will have come online in Los Cabos, pushing capacity from 14,000 to 18,000. That's a whopping 28% percent increase, but sheer numbers only tell part of the story.
Big-name brands are moving in with a vengeance. Ritz-Carlton and Four seasons are scheduled  to open properties in the region within the next year, the former at Puerto Los Cabos, the latter at La Ribera on the Los Cabos municipality's spectacular East Cape. Le Blanc and parent company Palace Resorts also plan to open a Los Cabos based resort later this year, following the success of their flagship Mexican property in Cancún. Hard Rock and Nobu are slated to open resorts at Diamante in Cabo San Lucas in 2018.
Not all the high-profile properties, however, are still under construction. Some of the most spectacular ones have already opened.
Here are five of our favorites:
Chileno Bay Resort & Residences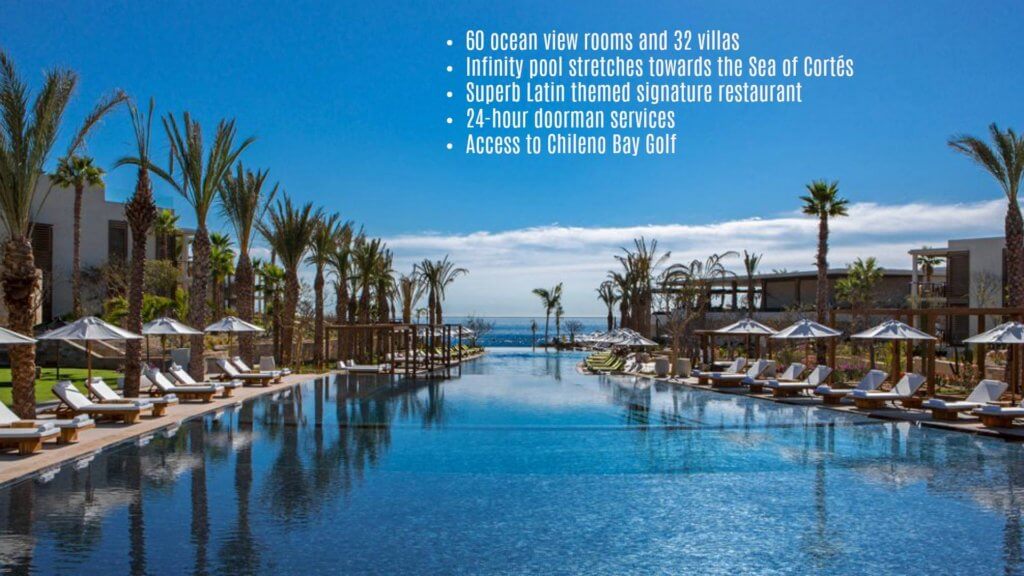 With the exception of its magnificent swimming pools – which stretch successively for over 400 meters, inclining gently downhill towards the Sea of Cortés with the majesty of a Grand Canal – one could almost accuse this newly launched resort of having too much class…of displaying an un-Cabo like disdain for conspicuous consumption. This philosophy of understated rather than ostentatious elegance is perfectly consistent, however, with that of nearby Esperanza, a  luxury property that is also managed by the distinguished Auberge brand. And to be perfectly clear:  the resort and residences offer a world-class experience on every level.
Each of the 60 hotel rooms and 32 multi-bedroom suites enjoy gorgeous vantages of Chileno Bay, at a site not far from that occupied by the original Los Cabo "luxury" resort, Bud Parr's Hotel Cabo San Lucas. A kids club and game room are among the many family-friendly amenities, adding  to a portfolio that already includes the spectacular pools, a superb 18-hole golf course designed by Tom Fazio, and one of the finest restaurants in Los Cabos. The latter would be COMAL, a Latin American themed eatery helmed by Yvan Mucharraz, who made his reputation locally as the Executive Chef at The Resort at Pedregal. Stunning views and delicious food and drinks headline the offerings at Comal, while tacos and tequila reign supreme at beachside bar TnT.
Breathless Cabo San Lucas Resort & Spa
Everyone knows the first law of real estate – location, location, location – but few have taken advantage of its possibilities quite like Breathless. The new resort opened in December 2015 at the juncture of Médano Beach and the Cabo San Lucas Marina, and has been taking guests' breath away ever since. One infinity pool looks out at the Sea of Cortés and the Land's End headland that marks the terminus of the Baja California peninsula; the other overlooks the multimillion dollar luxury yachts in the Marina and the movie star mansions that seem to cling perilously to the Pedregal hillside. The gorgeous views are only part of the allure, however. In addition to its 169 stylishly appointed suites – all boasting private balconies – the luxurious property also showcases an indulgently pampering spa, a superb collection of restaurants, and an onsite party scene that never seems to stop…or even to grow stale. The latter achievement is sustained through unceasing variety, from fashion shows, dance contests and toga parties to karaoke nights, talent contests and bonfire lit beachfront fiestas. Celebrity chef Richard Sandoval's La Biblioteca de Tequila also adds to the party hearty atmosphere at this seaside gem.
Grand Velas Los Cabos Resort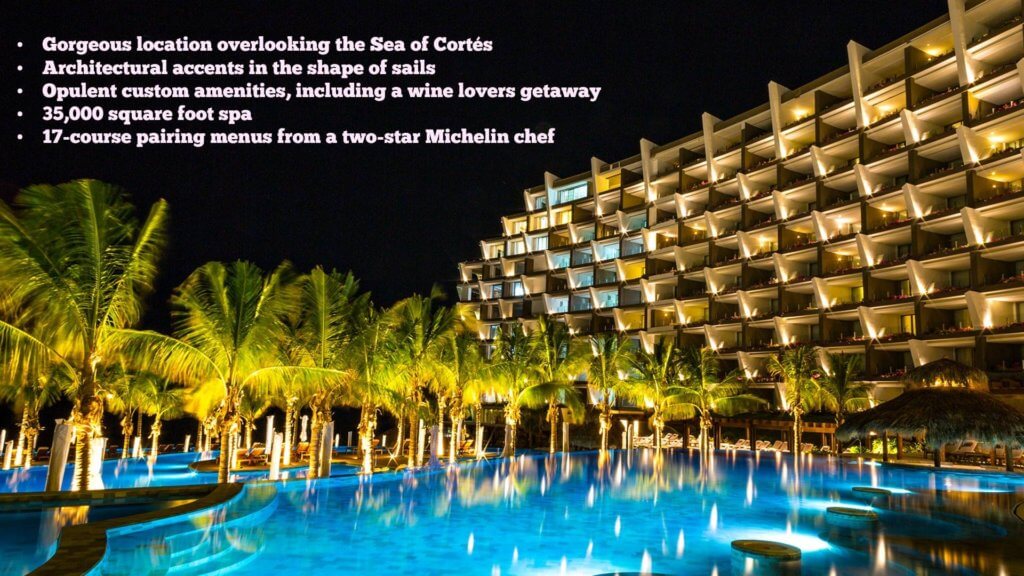 The biggest news since Grand Velas' grand opening in December 2016 was the announcement that the boutique Tourist Corridor based property now serves the most expensive tacos in the world. Pairing options for the $25,000 tortilla wrapped treats – whose ingredients include caviar, Kobe beef, lobster, black truffle infused brie, and actual gold flake – are in some cases even more exhorbitantly priced.
Remarkably, the onsite restaurant that makes these tacos, Frida, is not the resort's signature dining establishment. That would be Cocina de Autor, whose modest 17-course pairing menus are overseen by chef Sidney Schutte, winner of two coveted Michelin stars while helming Librije's Zusje at the Waldorf Astoria in Amsterdam. Even more impressive, perhaps, is the onsite spa, a 35,000 square foot facility so preposterously pampering it would cause a corrupt Roman emperor to blush.
Lest one think, however, that Grand Velas is only affordable to billionaires and blue bloods, we should point out that this newly launched luxury resort is actually an all-inclusive (well, except for the tacos). The strikingly shaped structure, seen in profile, resembles nothing so much as a large cruising yacht, an appropriate touch from a family owned hospitality company whose name in Spanish (Vela) means sail. The unique design also ensures that guests in all 304-suites have panoramic views of the golden sands of El Tule Beach, and beyond that the glittering blue waters of the Sea of Cortés.
Cachet Beach Hotel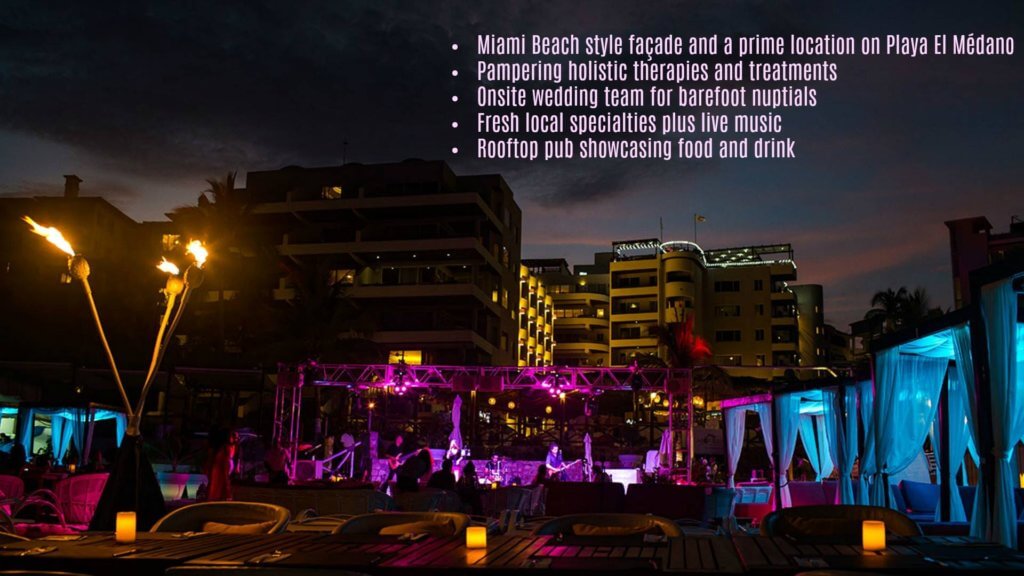 There are few places in Cabo San Lucas that remind one favorably of Miami Beach, but Cachet Beach Hotel, with its lively atmosphere and whitewashed retro style façade, is certainly one of them. The hotel would not look out of place on Collins Avenue, but also seems perfectly placed on the golden shores of Playa El Médano, the largest and most popular beach in Cabo San Lucas.
Cachet is the butterfly to the moth that once was Cabo Villas Beach Resort. Not only has the property been rebranded, but is slowly being rebuilt in graduated phases. The beach club and boutique beachfront accommodations are already completed, as is the multi-level ALETA Seafood Bar & Grill. ALETA is in the capable hands of Edgar Roman, long-time chef for Grupo Mi Casa, and notable member of the Chefs al Rescate (Chefs to the Rescue) charitable organization. Locals will be very familiar with the chef's culinary mastery, and also with the beachside dining area, which used to house the second Baja Cantina location.
Much remains to be done, including the temporary relocation of Baja Brewing Company's beloved rooftop restaurant for the construction of a new tower, but Cachet has already established itself as one of the premier spots on Médano Beach for poolside party action, and drinking, dining and live entertainment.
The Towers at Pueblo Bonito Pacifica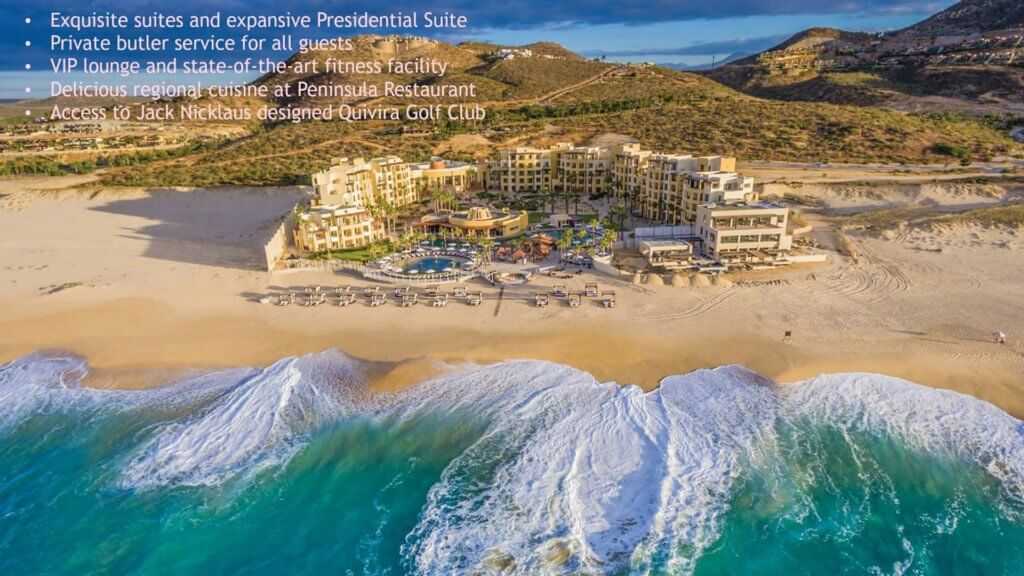 One of the most intriguing aspects of the recent building boom is its transformative impact on the Pacific Coast, just north of Cabo San Lucas. Diamante, a 1,500 acre resort and residential development, already boasts spectacular golf courses from major champions Davis Love III and Tiger Woods. The former's Diamante Dunes is currently ranked as the 38th best course in the world by GOLF Magazine, while the latter recently added an Oasis short course to accompany his parkland style El Cardonal loop.  Not content to rest on its substantial laurels, Diamante is also adding lodgings from big-name hospitality brands Nobu and Hard Rock to its portfolio, with both slated to open by 2018.
Nearby Pueblo Bonito Resorts founder Ernesto Coppel Kelly has also been making ambitious moves. The Mazatlán born hotelier's Quivira development, notable for its stunning Jack Nicklaus designed golf course, is adding a new luxury hotel from St. Regis. The 120-room property will also feature 60 opulent private residences, and is expected to open in 2021. This exciting news comes on the heels of the recent unveiling of a resort-within-a-resort concept at Pueblo Bonito Pacifica, already the most impressive of Pueblo Bonito's four resorts in Los Cabos. The newly minted Towers at Pacifica showcase breathtaking beachfront Pacific views, of course, but also offer world-class amenities.
Chef Octavio Hernández was lured away from Médano Beach based luxury benchmark Hacienda Beach Club's signature restaurant to helm Península, The Towers at Pacifica's ode to regional Baja California Sur cuisine and tropical romance. Guests in the 47 new Towers suites also have access to a VIP lounge and state-of-the-art fitness facilities, as well as tee time privileges at Nicklaus' cliffside masterpiece, Quivira Golf Club. The presidential suite is posh even by Los Cabos standards, boasting 3,200 square feet of exquisite appointments, and round-the-clock butler service. Those on the ground floor, meanwhile, have their own butlers, plus private plunge pools, lest they have to walk 20 yards to the adults-only property's nearest infinity pool.
Want your business, activity or event featured and promoted by CaboViVO, please be sure to contact us here, thanks…
Saludos,
Chris Sands and Michael L. Mattos